Leeds United Cakes Choice Of Players
Leeds United cakes are where the Crafted Cake House love to show off how creative we are, because we have so much experience baking and decorating them.
We are the first choice of many Leeds United supporters because of how good our cakes are, and the effort we put into the details that really matter. Because we understand football, and football fans, it puts us in the perfect position to meet the needs of any birthday cakes for your Leeds United supporting loved ones, and we have carefully mastered the art of getting the colours in our icing, identical to the blues and yellows used by Leeds United Football Club. And believe us, that is an art!
Our Leeds United shirt cakes are legendary, and you can choose from home or away shirts, and even training wear. If it has come out of Elland Road, we've most likely done a cake for it before, and you always benefit from our continuous experience in making LUFC cakes.
One popular type of cake is our rear of the Leeds shirt with a name and number on. In the example below, you'll see we went one better by reproducing the back of Jack Harrison. And we can do the same for you, whether your favourite player is Raphinha, Kalvin Phillips or any other Leeds United player you can think of you have the choice of any Leeds United players.
Our Leeds United cakes have been hugely popular with our customers, not only because Leeds United is one of the best supported teams in England, but because we are a Leeds cake business, so we understand what Leeds United supporters want a cake to look like.
You can find us in Morley, not far from the White Rose Shopping Centre, or Elland Road, but we are easy to get to from Leeds City Centre. Morley has a large share of loyal Leeds United fans and that is why we get a lot of requests for Leeds United Birthday cakes. We have even done corporate cakes for Leeds United Football Club, so we really do understand what ingredients make for the best Leeds United cakes!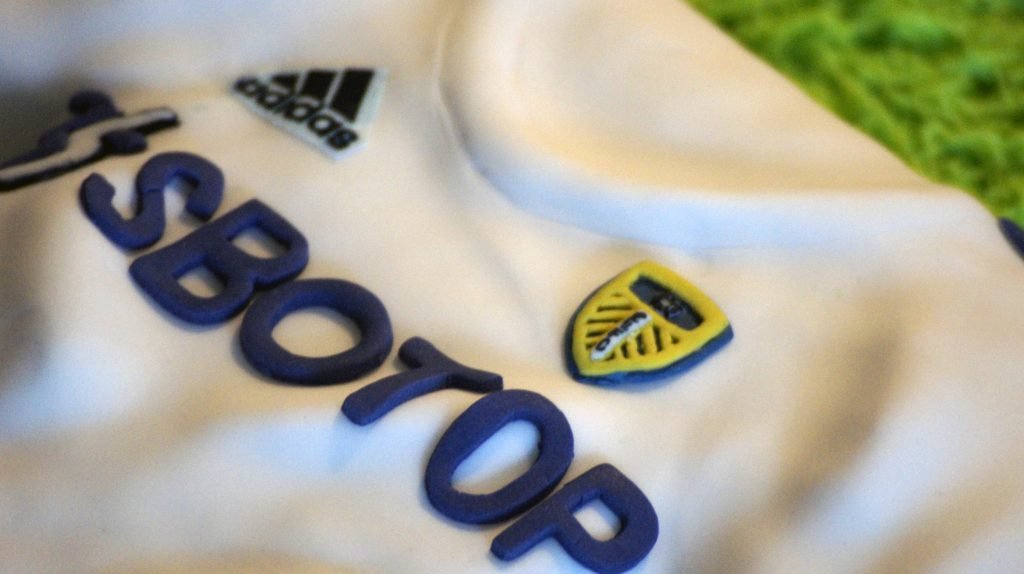 Leeds United Cakes for All Occasions
Whether it is a Leeds United birthday cake, Leeds United themed wedding, or even anniversary cakes, we can do Leeds United shirts, Leeds United scarf designs and much more, for any occasions. If you prefer cupcakes, we can do those too! Lot's of people love a selection of cupcakes all themed on Leeds United, with models of footballers, Elland Road, Billy Bremner and anything else Leeds United themed that your imagination will get carried away with. They make for a wonderful surprise for any Leeds fan and it isn't just the football team that we can create cakes and cupcakes for.
Visit our Morley Cakes Shop
Being based in Leeds we get many requests for Leeds Rhino's cakes and cupcakes, and again we understand what Rugby League fans want, it's our job to! If you want any Leeds United or Leeds Rhino's themed gifts, we have a selection of original designs in our shop, and online. But you can also request commissions if there is something you have in mind that would be perfect for any Leeds United or Leeds Rhino's supporter that you know.
You can visit our cakes shop in Morley or there are many ways to contact us. Via this website we have a custom cakes contact form, which allows you to upload photo's of what you want on your cake, or ideas of similar cakes, or you can use the icon at the bottom of this page to contact us via Facebook Messenger direct. You can call us and you can follow us on Instagram and like us on Facebook. It's easy to contact us!
Cake and Cupcake Flavours
Have a look below for a list of the many flavours of cakes and cupcakes we provide. Also, we care as much about the taste of our cakes and cupcakes, as how they look. This is something that our customers love about us, and a reason we are first choice for cakes and cupcakes with anybody who has tried them.
Look at our many cake flavours
Bakewell Tart (almond cake with jam)
Black Forest (chocolate cake with cherry jam)
Victoria Sponge (vanilla cake with jam)
Banana
Black Cherry
Bubble-gum
Candy Floss
Caramel
Caramel (Salted)
Chocolate
Chocolate Orange
Coffee
Gin & Tonic
Ginger
Irish Cream
Lemon
Lemon & Poppy seed
Mint
Orange
Peanut Butter
Prosecco
Raspberry
Red Velvet
Rose
Strawberry
Tutti-Fruity
Vanilla
Violet
Black Cherry
Bubblegum
Candy Floss
Caramel
Caramel (Salted)
Chocolate
Coffee
Gin & Tonic
Irish Cream
Lemon
Lemon & Poppyseed
Lemon Sherbet
Mint
Orange
Peanut Butter
Prosecco
Raspberry
Rose
Strawberry
Tutti-Fruity
Vanilla
Violet
Added Extra's **
Chocolate Ganache (white, milk or dark)
Chocolate Orange Ganache (white, milk or dark)
Chocolate Raspbery Ganache (white, milk or dark) (or add a flavour with the chocolate ganashe)
** Cost extra on top of cake price.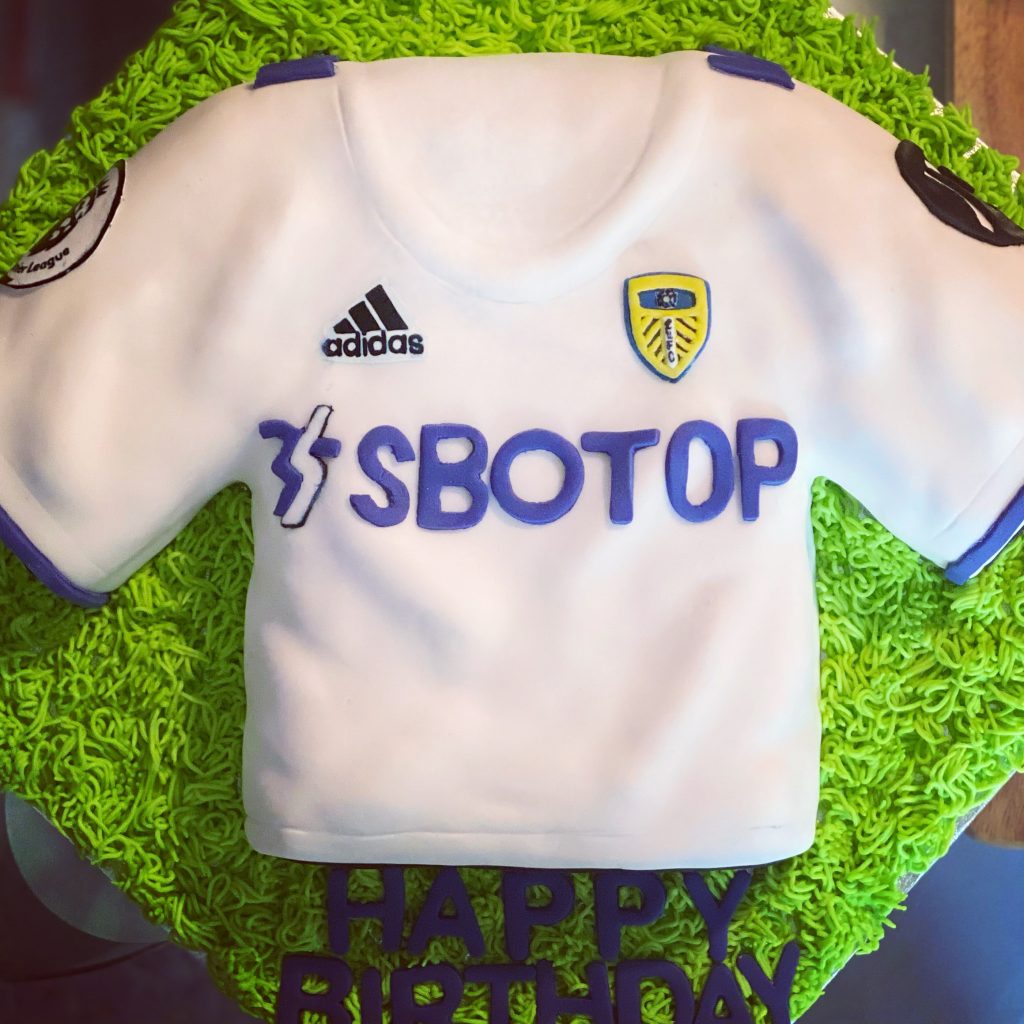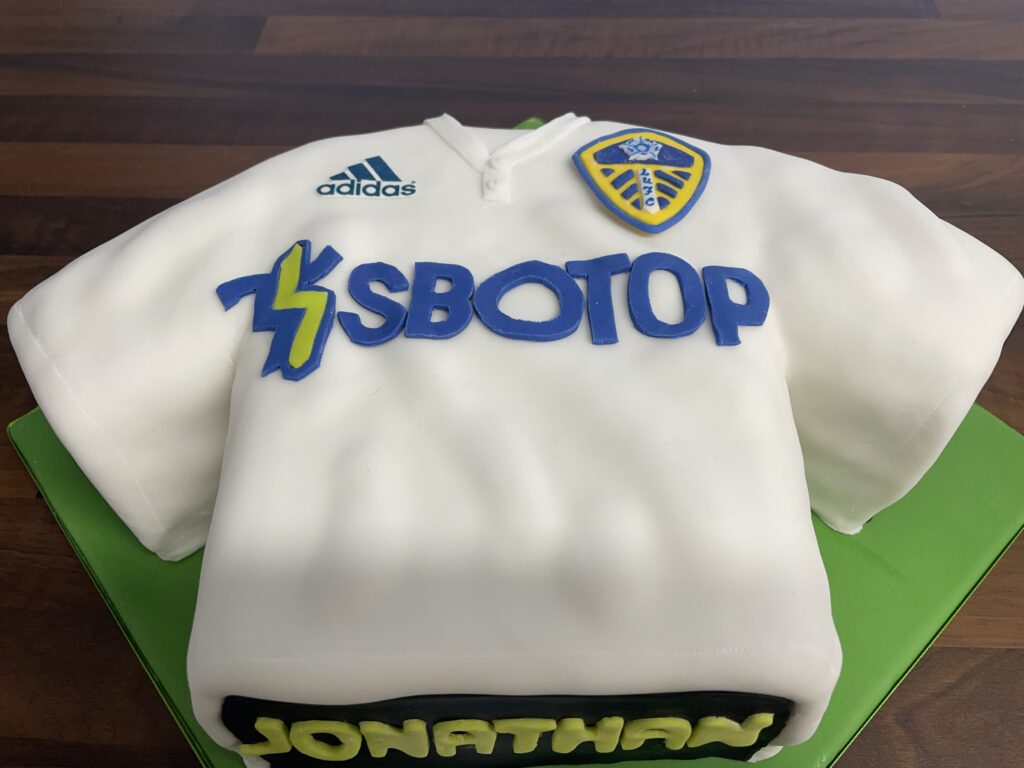 Get a Quote - Leeds Cakes
Leeds United Cakes - Some Examples