Birthday Cakes made in Leeds
Baked and designed at our Morley Cakes shop, you can be sure our cakes are fresh and great looking. This is why we are the first choice of an ever growing number of people in Leeds for cakes.
Whatever the type of cake you want, we have something for you. Let your imagination run free and really make that Birthday cake something that a loved one will remember for years to come. Over the years, as you can imagine, we have made too many birthday cakes to count. This means we have the experience to provide you with something that will suit anyones birthday from the cutest 1st birthday cakes (now even half-birthday cakes have become a popular choice), through to cakes for young children, where you can have something based on their favourite cartoons, television programs, YouTube stars, or movies.
Frozen Themed Birthday Cake and Cupcakes
You name it, we have done it before, and if we haven't, just provide us with a photo and some information, and leave the rest to us. There's nothing quite like the look on the face of your children when they see the thought that has gone into giving them a birthday cake that features the things they love that are specific to them.
Cakes for Teenagers & Young Adults
For teenagers we can help you with ideas for their birthday cakes too. With more young adult themed cakes of brands they love, social media and pop stars or other celebrity themed cakes, right through to football clubs and other things that are sure to impress any teenager when they see their birthday cake for the first time!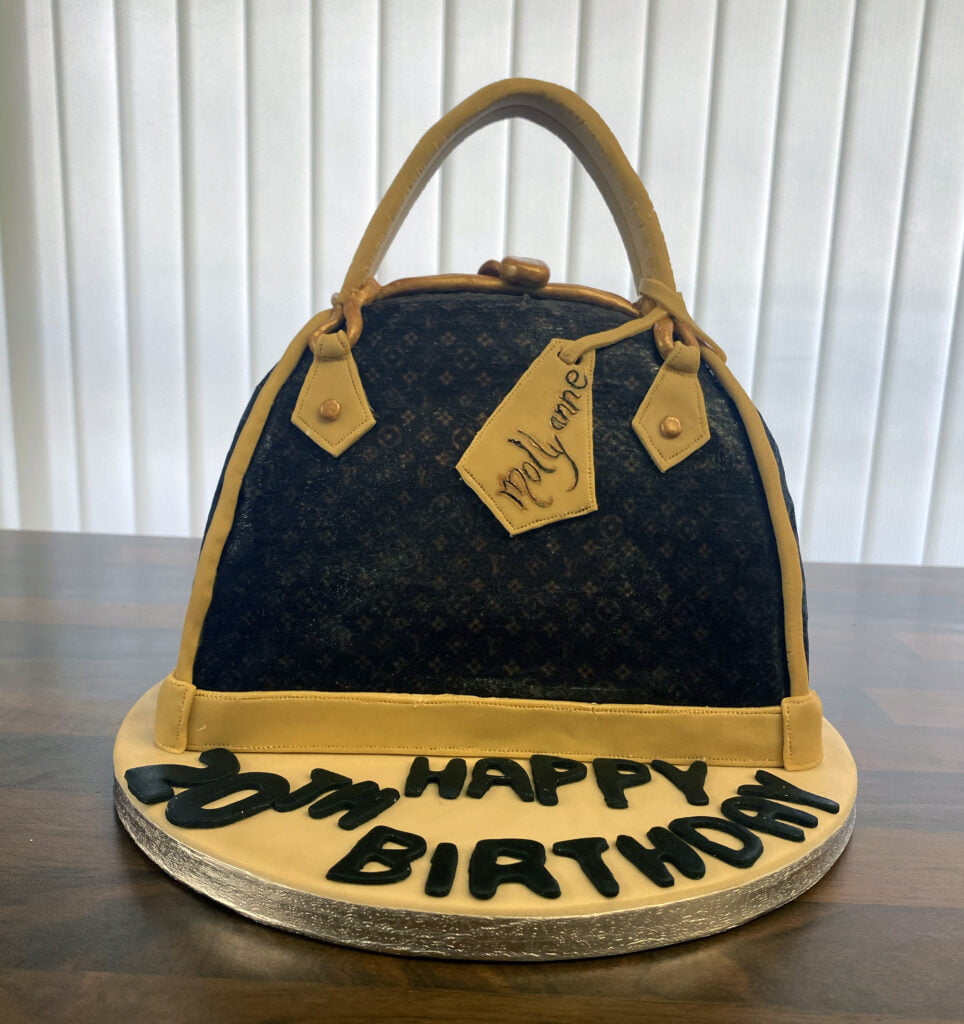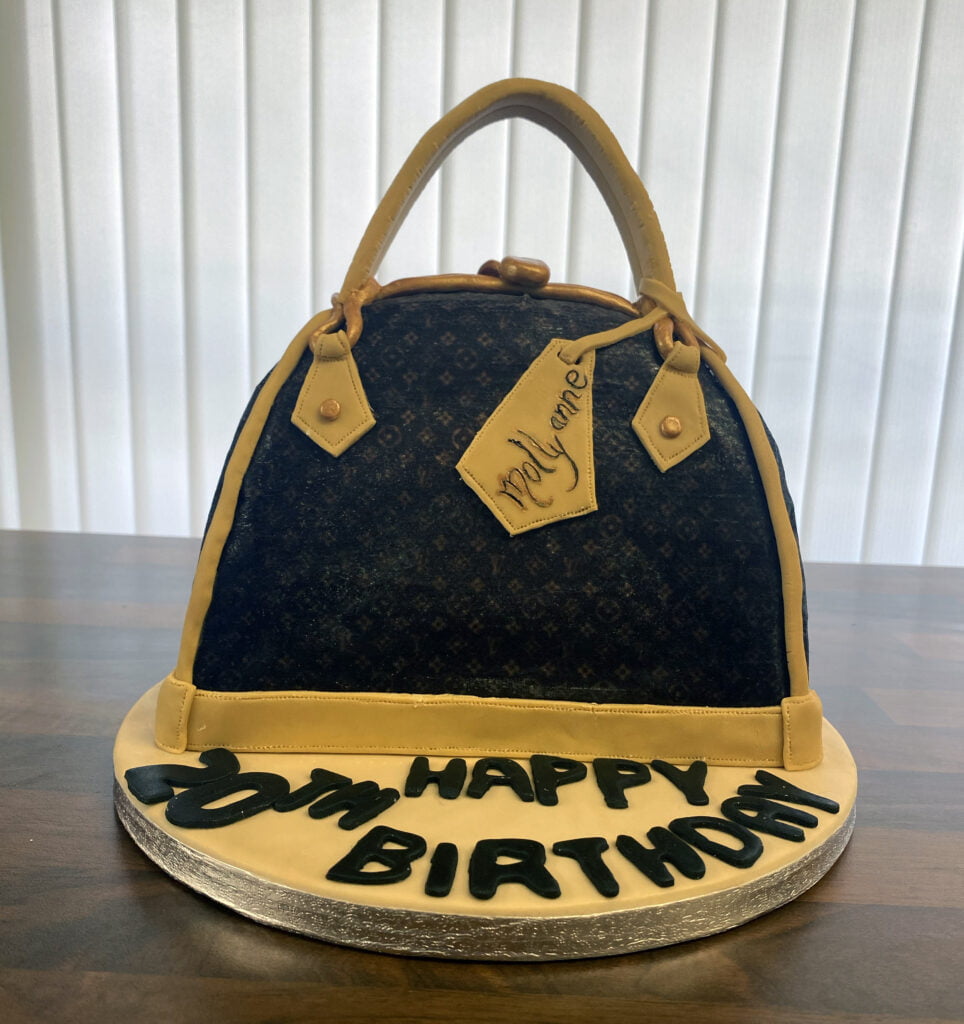 Louis Vuitton Birthday Cake
Of course there are cakes that you'll also want that are for milestone birthdays that often will be a centrepiece to a birthday party and get all of the friends they've invited talking. And we understand what makes a great looking cake. We have done many cakes for parents who have returned to us for cakes for 16th birthdays, 18th birthdays and of course the 21st birthday cakes. Some people like these types of cakes to be more like the classy wedding cakes, but smaller and more affordable. We have some excellent examples in our gallery and, you can see the latest cakes we have done by following us on Instagram.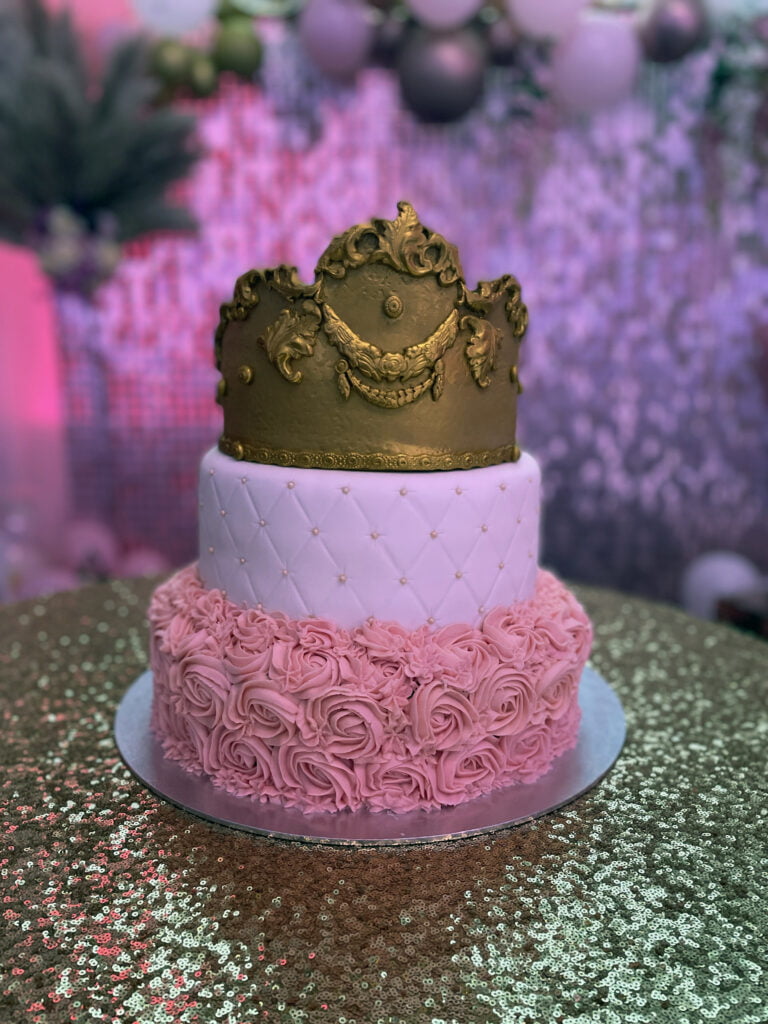 Centrepiece Three-Tier Birthday Party Cake
Cakes for Twins & Siblings
A style of cake that is growing in popularity is the half-and-half cake. These cakes are ideal for twins or siblings that have their birthday very close together, when having a birthday party at the same time is the most sensible and cost-effective approach.
Whereas once upon a time you'd have to consider a cake that was neutral to ensure that the cake suited both siblings, now you can choose a cake that has half of it dedicated to each person, so it is personalised with their individual interests. Maybe they both support different football teams? You can have half featuring one team and the other half featuring the other football team. Or maybe one has a special interest like horse riding, and the other dancing, now you can have both halves of the cake dedicated to each interest!
Cakes For Parents & Grandparents
As generations move on, so do the types of cakes that people of a certain age want. Mothers turn into grandmothers, but that doesn't suddenly mean they want a boring grandmother cake. We can work with you to find things that they loved in their younger years that will bring fantastic memories flooding back and really show to your parents or grandparents that you've really made an effort to show them how much you love them, and how much you have always listened to them, because sometimes, we are all guilty of not always paying attention, so a birthday cake full of fond memories or that special someone or time in their life, really will guarantee a parent or grandparent will feel truly appreciated, in a world where we don't always get the time to show it as much as we'd like to.
Call us on 0113 2534455 and we can help to track down or recreate things from years gone by or maybe there's something new that they really love, we can do a cake based on anything you want!
Ask for a custom Birthday Cake and we will help you find that perfect cake with the wow factor! We have a wide range of cake and cream flavours to choose from for your cake. These can be fruit, sponge or chocolate or lemon cake and prices start at £45.00 for an 8" sponge or £60.00 for an 8" fruit.
Novelty cakes make a great centrepiece and come in many sizes and flavours. Smallest size equivalent to an 8" cake is £55.00.
See the gallery for some great ideas for that extra special Birthday cake, here are just a few.
See examples of our children's cakes.
Look at our many cake flavours
Bakewell Tart (almond cake with jam)
Black Forest (chocolate cake with cherry jam)
Victoria Sponge (vanilla cake with jam)
Banana
Black Cherry
Bubble-gum
Candy Floss
Caramel
Caramel (Salted)
Chocolate
Chocolate Orange
Coffee
Gin & Tonic
Ginger
Irish Cream
Lemon
Lemon & Poppy seed
Mint
Orange
Peanut Butter
Prosecco
Raspberry
Red Velvet
Rose
Strawberry
Tutti-Fruity
Vanilla
Violet
Black Cherry
Bubblegum
Candy Floss
Caramel
Caramel (Salted)
Chocolate
Coffee
Gin & Tonic
Irish Cream
Lemon
Lemon & Poppyseed
Lemon Sherbet
Mint
Orange
Peanut Butter
Prosecco
Raspberry
Rose
Strawberry
Tutti-Fruity
Vanilla
Violet
Added Extra's **
Chocolate Ganache (white, milk or dark)
Chocolate Orange Ganache (white, milk or dark)
Chocolate Raspbery Ganache (white, milk or dark) (or add a flavour with the chocolate ganashe)
** Cost extra on top of cake price.
More Types of Birthday Cake