Leeds United Birthday Cakes
Fans choose us for Leeds United Birthday Cakes
If you need a cake maker you can trust for Leeds United Birthday Cakes, the Crafted Cake House is really the only place to look.
We are based in Morley, Leeds, so get asked for a Leeds United cake almost every day, so we know exactly what Leeds United supporters really want from a cake. There are lots of different types of LUFC cakes you can choose from, whether it is a football shirt cake, football player shirt, our drip cakes or icing cakes, there are a number of different options. It all depends on what works for you best!
Leeds United drip cakes have become more popular in recent years, and yours can have a combination of classic LUFC football shirts and the team crest, where you can select Leeds United retro football shirts to combine with the current season football shirt. All are edible too! The cake is yellow and the drips are blue. These types of cakes really stand out and look and taste delicious (see photo below).
We have also done a really nice ball icing cake that looks and tastes fantastic (pictured right). With a football in the middle surrounded by the green football pitch and small footballs, it includes a classy white, yellow and blue pattern two Leeds United crests and an edible football shirt with the name of whoever's birthday it is on the back.
Leeds United football shirt cakes
Our Leeds United cakes are legendary, and one of the most popular types of birthday cake we do are the Leeds United football shirt cakes. Although most people choose the latest Leeds United home shirt, you can have any football shirt cake of your choice. This includes LUFC away shirts, goalkeepers jerseys as well as training shirts. But if you choose you can also request a Leeds United retro shirt cake by simply calling us on 01132 534455 today.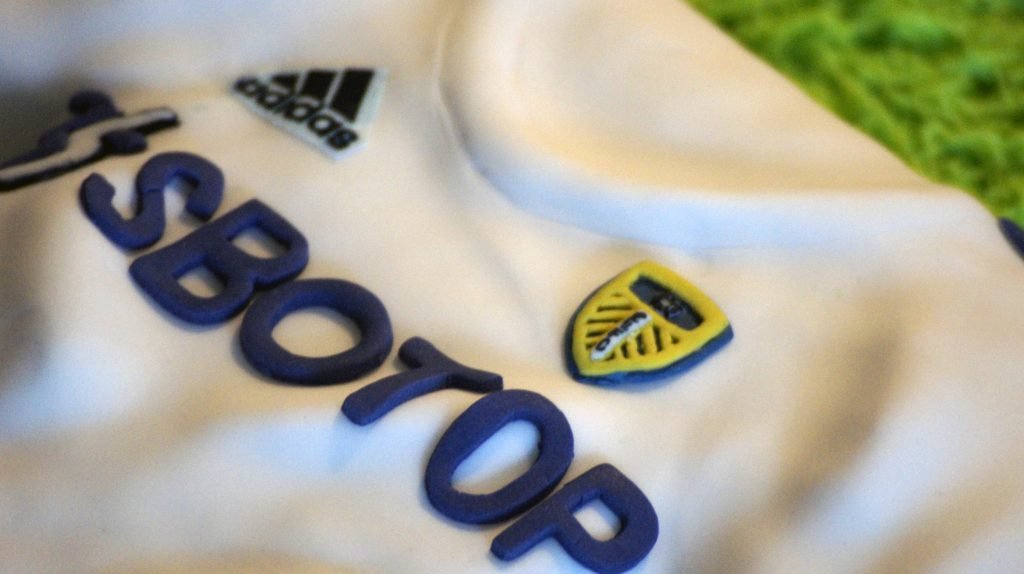 Leeds United Cakes for All Occasions
Whether it is a Leeds United birthday cake, Leeds United themed wedding, or even anniversary cakes, we can do Leeds United shirts, Leeds United scarf designs and much more, for any occasions. If you prefer cupcakes, we can do those too! Lot's of people love a selection of cupcakes all themed on Leeds United, with models of footballers, Elland Road, Billy Bremner and anything else Leeds United themed that your imagination will get carried away with. They make for a wonderful surprise for any Leeds fan and it isn't just the football team that we can create cakes and cupcakes for.
Visit our Morley Cakes Shop
As you can imagine our cake shop is very popular, so we do get booked up fast, so we advise that you book your cake a month or two in advance of the birthday you are planning for to avoid disappointment. We have an extensive cake flavours list to choose from, and all of our cakes are freshly baked in our shop. This ensures your Leeds United Birthday Cake will be as moist and fresh as it possibly can be and taste delicious.
You can visit our cakes shop in Morley or there are many ways to contact us. Via this website we have a custom cakes contact form, which allows you to upload photo's of what you want on your cake, or ideas of similar cakes, or you can use the icon at the bottom of this page to contact us via Facebook Messenger direct. You can call us and you can follow us on Instagram and like us on Facebook. It's easy to contact us!
Cake and Cupcake Flavours
Have a look below for a list of the many flavours of cakes and cupcakes we provide. Also, we care as much about the taste of our cakes and cupcakes, as how they look. This is something that our customers love about us, and a reason we are first choice for cakes and cupcakes with anybody who has tried them.
Look at our many cake flavours
Bakewell Tart (almond cake with jam)
Black Forest (chocolate cake with cherry jam)
Victoria Sponge (vanilla cake with jam)
Banana
Black Cherry
Bubble-gum
Candy Floss
Caramel
Caramel (Salted)
Chocolate
Chocolate Orange
Coffee
Gin & Tonic
Ginger
Irish Cream
Lemon
Lemon & Poppy seed
Mint
Orange
Peanut Butter
Prosecco
Raspberry
Red Velvet
Rose
Strawberry
Tutti-Fruity
Vanilla
Violet
Black Cherry
Bubblegum
Candy Floss
Caramel
Caramel (Salted)
Chocolate
Coffee
Gin & Tonic
Irish Cream
Lemon
Lemon & Poppyseed
Lemon Sherbet
Mint
Orange
Peanut Butter
Prosecco
Raspberry
Rose
Strawberry
Tutti-Fruity
Vanilla
Violet
Added Extra's **
Chocolate Ganache (white, milk or dark)
Chocolate Orange Ganache (white, milk or dark)
Chocolate Raspbery Ganache (white, milk or dark) (or add a flavour with the chocolate ganashe)
** Cost extra on top of cake price.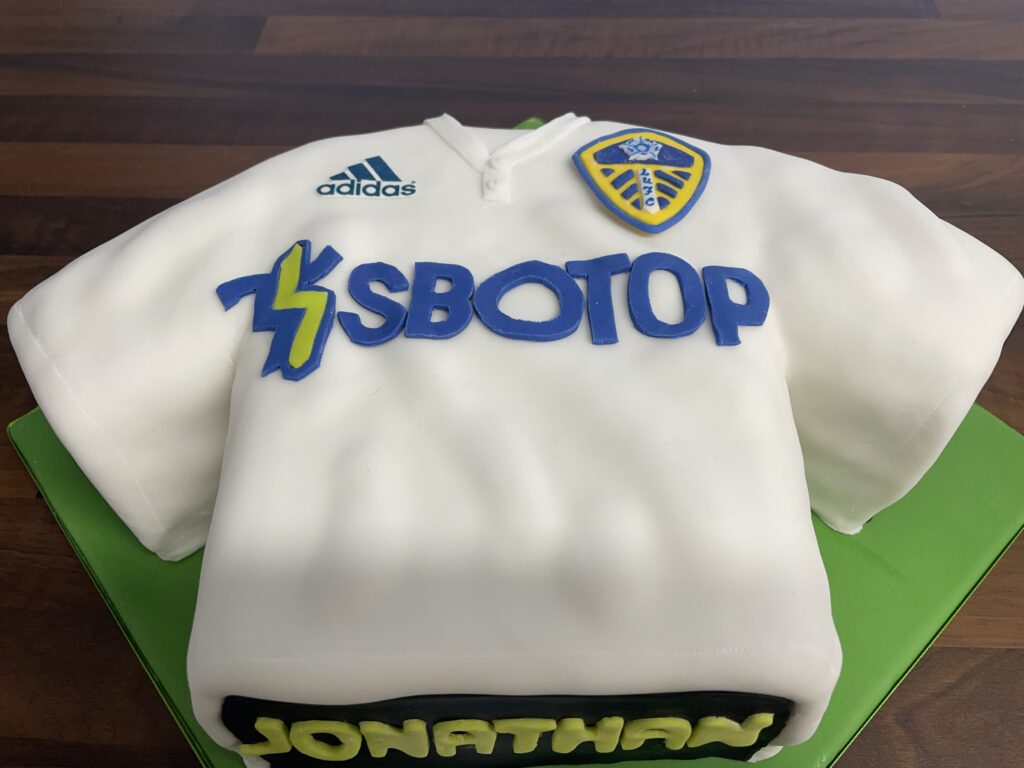 Get a Quote - Leeds Cakes
Leeds United Cakes - Some Examples