Girl's Birthday Cakes - Ideas
We have made many Birthday Cakes for children and teenagers, and we know how to create that perfect cake for her.
If you already have a good idea about what she would love her cake to be like, you can call us on 0113 2534455 and discuss your needs, and we will guide do the rest. We have years of experience in decorating cakes and shaping them to anything from handbags to princess castles! 
Even if it isn't a Birthday Cake, maybe it is a graduation or a congratulations cake, we have lots of ideas that we can come up with to make that a truly breathtaking cake that she will instantly recognise you have really taken the time to think about her and what she loves.
Take a look at our Gallery if you need some ideas, but remember, whatever the cake you are wanting, we can do it for you. 
We have a wide range of flavours for you to choose from and all of our cakes are freshly baked in our shop, as we know that the taste is as important as how the cake looks. 
Look at our many cake flavours
Bakewell Tart (almond cake with jam)
Black Forest (chocolate cake with cherry jam)
Victoria Sponge (vanilla cake with jam)
Banana
Black Cherry
Bubble-gum
Candy Floss
Caramel
Caramel (Salted)
Chocolate
Chocolate Orange
Coffee
Gin & Tonic
Ginger
Irish Cream
Lemon
Lemon & Poppy seed
Mint
Orange
Peanut Butter
Prosecco
Raspberry
Red Velvet
Rose
Strawberry
Tutti-Fruity
Vanilla
Violet
Black Cherry
Bubblegum
Candy Floss
Caramel
Caramel (Salted)
Chocolate
Coffee
Gin & Tonic
Irish Cream
Lemon
Lemon & Poppyseed
Lemon Sherbet
Mint
Orange
Peanut Butter
Prosecco
Raspberry
Rose
Strawberry
Tutti-Fruity
Vanilla
Violet
Added Extra's **
Chocolate Ganache (white, milk or dark)
Chocolate Orange Ganache (white, milk or dark)
Chocolate Raspbery Ganache (white, milk or dark) (or add a flavour with the chocolate ganashe)
** Cost extra on top of cake price.
Cakes for girls of all ages
There are lots of things that you can choose for the girl you love that would make the ideal birthday cake. Watch her face light up when you show her a cake based on her favourite cartoon character, or her favourite story, movie, or show that she's a princess with a stand out cake for her party (see image below). There are so many things that will be perfect for her birthday and we are always on hand to help you find the perfect cake that she will adore.
Baby Girls Cakes
From an early age there's so much you can do to make her birthday just perfect. The best thing about children is that they have such rich imaginations, but the first cake that is of something they love really does make a memory that will last forever. Better still, it will also make you feel so happy just to see the look on your child's face when she first sees her cake.
For the youngest girls, the really cute cakes are very popular, and it's understandable because they look fantastic. Not to mention the taste, all of our cakes are freshly baked and baked as late as possible to make sure that it tastes the very best it can when you receive it.
Cakes for girls growing up
For girls that are at school there's many options as they develop more interests and are gaining their own unique personality. Role models are a popular choice, it could be a pop star or a movie star, or even a well known character. Whatever she wants, we can make.
One of the most requested cakes in recent years has been different types of birthday cakes based on the popular movie Frozen. 
Cakes for teenage girls
For teenage girls there are also many options, some still remain the usual pop stars, groups, and movies and tv programs, but also social media, make up, and of course the all important fashion is always something that is going to wow her if you know her favourite brands.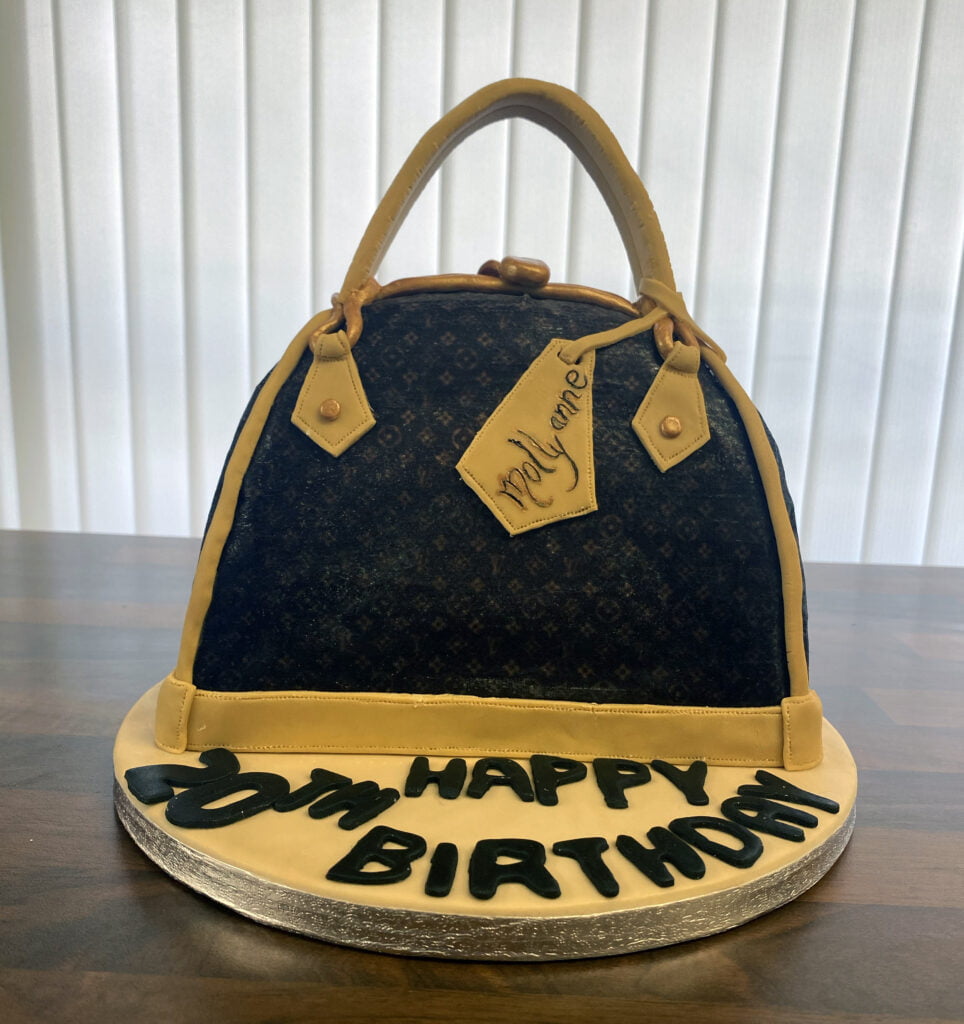 There are also the milestone cakes which are ideal for 13th, 16th & 18th Birthday's, the latter is discussed on the Women's Cakes page. But because these are popular for birthday party's parents often have to consider the number of friends that will be at the party, which requires a bigger cake. The best is usually some kind of show piece that not only the birthday girl will love, but all of her friends will talk about too. 
Usually a classy two or three-tier cake in vibrant colours will fit that bill, and will also work perfectly for their social media such as Instagram or TikTok. Every teenage girl likes the chance to feel centre stage and the right cake really does make all of the difference.
Girl's Birthday Cakes - Gallery